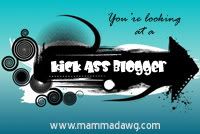 Do you know any bloggers that kick ass?

Maybe they've got incredible, original content. Or they're overflowing with creativity. Is it someone that helps you become a better blogger? Or a bloggy friend you know you can count on? Or maybe it's someone who simply inspires you to be a better person... or someone else who sends you to the floor, laughing your ass off.

Whatever the reason may be, I'm sure you know at least a couple of bloggers that kick ass. Well... why not tell 'em so?

LOVE ON 'EM
Choose 5 bloggers that you feel are "Kick Ass Bloggers"
Let 'em know in your post or via email, twitter or blog comments that they've received an award
Share the love and link back to both the person who awarded you and back to http://www.mammadawg.com/
Hop on back to the Kick Ass Blogger Club HQ to sign Mr. Linky then pass it on!
Grab code's below - don't forget to link up the person who nominated you for the Kick Ass Blogger Club. :)
BONUS: Are you a Mom or Dad Blogger, too? If so, join us at The Bloggerhood! "
(150px Width)
(200px Width)
[end here]
I feel so honored and privileged having given this award by
Elaine
,
Babette
, and
Mommy Ruby
. Mommy Ruby cited my
other blog
and I truly felt overwhelmed by her description. If I may quote:
"I rarely comment on post, not unless if it's very engaging. Her blog really makes me itch to comment. She has a mind penned with great courage. I like it!"
I appreciate Mommy Ruby for recognizing me in such a way that she thinks my posts are engaging.
Now it's my turn to choose my own list of kick ass blogger awardees: